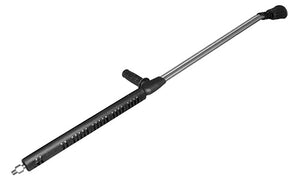 MTM Hydro's Dual Lance with plated pipes offers a thorough cleaning experience with extreme corrosion resistance. This Italian Dual Lance comes with a pre-installed QC Coupler on the High side and Chem Nozzle on the Low side. By turning the side handle, you open up the low side and automatically begin drawing chemical through your downstream injector. Dual Lances are the preferred cleaning attachment for hot water applications by applying chemical via low pressure and then cleaning with a pressurized stream while never having to turn the pressure washer off or change equipment. boots as needed. Custom builds are subject to MOQ's based on availability. 
 
1/4" M NPT Inlet x QC Coupler and Chemical Nozzle
Max - 4,100 PSI
Max - 300° F 
 
 WARNING

This product can expose you to chemicals, including DINP and/or DEHP which is know to the state of California to cause cancer or birth defects or other reproductive harm, go to www.p65Warnings.ca.gov for more information.
The products we sell are not intended for use in potable water systems and are only for industrial non-drinking water applications.