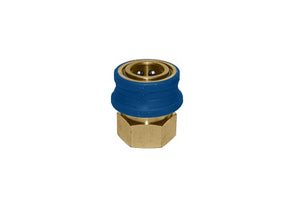 MTM Hydro's Insulated Brass Quick Couplers are great for quickly disconnecting hose lines, spray guns, and many other pressure washing attachments when using hot water. The insulated grip offers protection to your hand when changing an accessory. Items such as lances, tips, and foam cannons can be quickly transitioned for an expedited cleaning experience.
MTM Hydro Couplers are offered in a variety of sizes to accomdate the multitude of industries and attachments available. Keep in mind, though, couplers can only receive like-sized plugs; i.e. 1/4" Coupler must be paried with a 1/4" Plug.
Dont forget, "Male" and "Female" only refer to exposed NPT or BSP threads. An easy rule of thumb is that if you can see the threads, it's Male, don't over think it!
 WARNING
This product can expose you to chemicals, including DINP and/or DEHP which is know to the state of California to cause cancer or birth defects or other reproductive harm, go to www.p65Warnings.ca.gov for more information.
The products we sell are not intended for use in potable water systems and are only for industrial non-drinking water applications.